Black Panther 2 is the eagerly anticipated follow-up to the 2018 superhero film, which introduced viewers to Wakanda and the several MCU heroes that call it home. T'Challa, the Black Panther, took the lead in the Marvel film after making a brief cameo appearance in the third Captain America film. In Avengers: Infinity War and Avengers: Endgame, he later made a comeback. T'Challa from Black Panther has been retired, though, since Chadwick Boseman's passing in 2022. Shuri will take charge of Black Panther 2 in its place. What do we know about Shuri and who is she, then?
Who is Shuri?
Shuri (Letitia Wright) would appear in Black Panther two years after her brother T'Challa made his MCU debut in Captain America: Civil War. Shuri is the younger of the two children born to King T'Chaka (John Kani) and Queen Ramonda (Angela Bassett). She lacks regard for Wakanda's sacred laws and customs and is boisterous and conceited. Shuri is a brilliant genius who has contributed to the nation's technological growth, which has propelled it years ahead of the rest of the globe, thus her arrogance isn't wholly unwarranted. Shuri still has a great deal of love and respect for her brother and the people of Wakanda despite her haughty and brash attitude. She supports T'Challa in numerous conflicts, including fighting against Killmonger's (Michael B. Jordan) attempt to usurp the throne in Black Panther, taking out Vision's (Paul Bettany) Infinity Stone in Avengers: Infinity War, and joining the titanic fight against Thanos in Avengers: Endgame after she and half the universe were destroyed.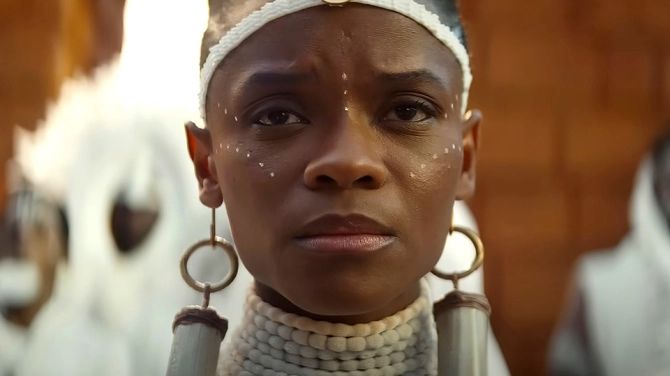 Who's the next Black Panther? Is it Nakia (Lupita Nyong'o), T'Challa's Wakandan lover?  Shuri: Next Black Panther?
Yes. Shuri is the next Black Panther. Princess Shuri (Letitia Wright), T'Challa's sister, is the apparent choice for succession. This may not surprise those who watched the most recent video, which showed a female Black Panther costume and the use of her distinctive arm blasters, but in Wakanda Forever, it takes Shuri a while to continue her father and brother's legacies.
Will Shuri be the head of Wakanda or the next Black Panther?
Many anticipate Shuri to become Wakanda's queen now that its protector is returned, but she refuses. She leaves Wakanda's rule to M'Baku (Winston Duke) and visits Nakia in Haiti. Shuri is shocked to learn that Nakia and T'Challa have a child, meaning she's no longer the last of her family. Shuri gives up trying to reproduce the Heart-Shaped Herb when T'Challa dies. But after Queen Ramonda (Angela Bassett) was murdered by Namor (Tenoch Huerta), Shuri tries to recreate the plant once more and succeeds by using fibers from a bracelet that Namor gave her that are made of vibranium. She consumes the plant, travels to the Ancestral Plane, acquires the powers of the Black Panther, and then appears in front of the Wakandans wearing a brand-new Vibranium suit. She then urges them to fight Namor and his kingdom Talokan.
The identity of the following Black Panther was the subject of numerous Internet speculations and theories prior to the release of Wakanda Forever. Despite Killmonger's apparent demise in Black Panther and desire that his body is buried at sea, Ramonda, the Jabari commander M'Baku (Winston Duke), and even a revived Killmonger were on fans' lists of potential possibilities. But less than two months prior to the release of Wakanda Forever, a LEGO set inspired by the film revealed that Shuri will be Wakanda's new protector. Marvel Studios has not yet made any intentions public regarding where Wright's Black Panther would appear in upcoming MCU installments. The only place to watch Black Panther: Wakanda Forever right now is in a cinema.
Must Read: How to Watch Yellowstone Season 5